The DuraTech/Haybuster Team
These are the people that build your DuraTech/Haybuster equipment. They are the Keys to our Success
---
Mission Statement
To support our customers by providing superior products and services of exceptional value which gain competitive advantage in their markets. To provide work environments where our employees can meet their potential and thrive in an atmosphere of excellence. To exceed our customers' expectations in quality, delivery, and cost through continuous improvements and customer interaction.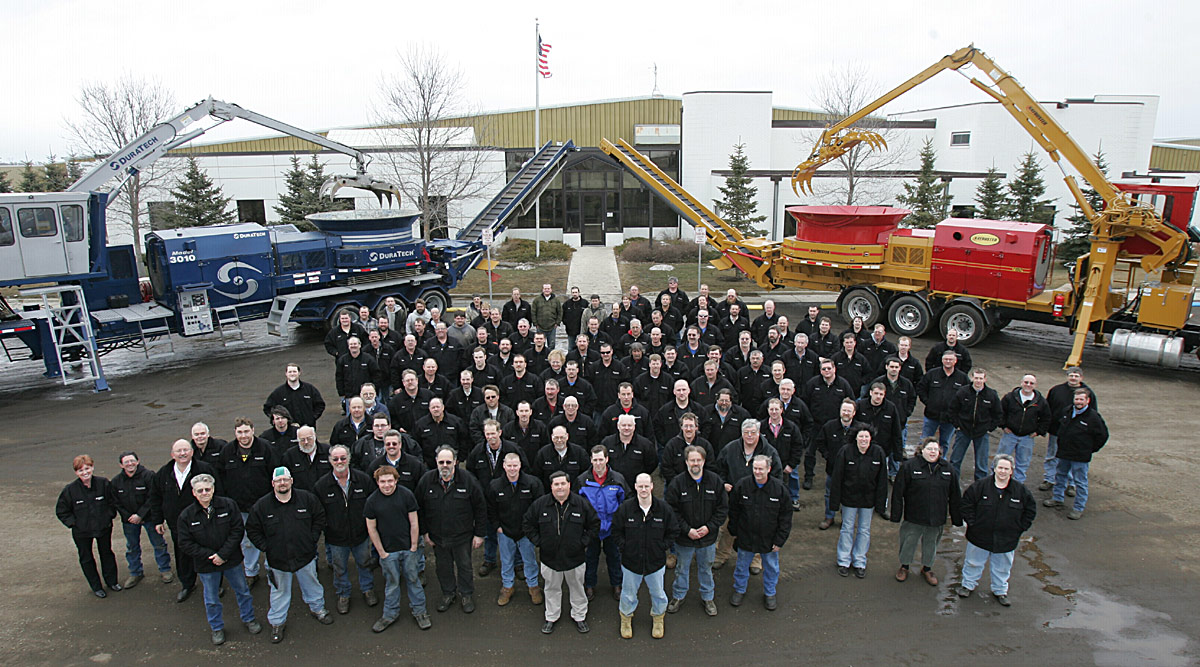 "A tradition of innovation since 1966"
DuraTech Industries International, Inc. (originally Haybuster Manufacturing) was established in 1966, and was initially located in Minot, North Dakota. The founder of the company, Joe Anderson was a rancher and farmer who recognized the benefits of grinding hay for his livestock herd. However, the grinders available then were too large and expensive for the average rancher or farmer to own and operate. Joe's vision was to build a tub grinder that would better fit the agricultural application, thus beginning J&J Manufacturing which was subsequently named HAYBUSTER MANUFACTURING COMPANY.
In the early 1970's, HAYBUSTER was relocated to a larger facility in Jamestown, North Dakota (now 46 acres and 206,500 sq ft under roof) where extra emphasis was placed on expanding the company's product line. During this time, additional hay processing and handling equipment products were developed. Additionally, other agriculturally related products were developed by HAYBUSTER, including "no-till" drills, undercutters, and rock pickers.
In the late 1980's, HAYBUSTER focused its innovative expertise toward development of an industrial line of products, as the need for recycling and composting emerged, and demand for industrial tub grinders increased. Thus, with over thirty years' experience in manufacturing tub grinders, HAYBUSTER expanded into the industrial market with its more rigorous and demanding product requirements (which led to the present DURATECH INDUSTRIES INTERNATIONAL, INC.). Today, the industrial product line(DuraTech) includes a full range of heavy-duty industrial tub and horizontal grinders ranging from a 9 ft.- 325hp tub grinder up to a 12 ft- 860hp tub grinder with grapple loader, and has introduced a new model; the 9564 Horizontal Grinder with 950hp. Also provided are a multitude of custom options to meet unique customer requirements.
Currently, DuraTech Industries markets over 20 products through its North American and international dealer network. This network of over 600 dealers worldwide includes industrial distributors and agricultural implement/ equipment dealers who sell and service the diversity of products offered.
DURATECH INDUSTRIES INTERNATIONAL, INC., today is a respected equipment manufacturer in the global marketplace, offering products which have a reputation for being durable and built to exceed market expectations of high value for the dollars expended. These quality-built units offer today's busy operator new and better cost-effective methods for performing their many and varied functions.
The management, employees and owner are committed to continuing the excellence of DuraTech Industries history by constantly developing products to meet new challenges for the industries and customers served. Internal staffing increases and manufacturing asset investments are ever-present and ongoing, as the commitment to meet worldwide demands continues as a primary corporate goal. The history of DuraTech Industries reflects innovation and quality, by listening to our customers wants and needs...our future growth goals are based on these same standards to insure both product and service excellence worldwide